Steel Domes
This page describes how to build geodesic domes using rigid (mostly!) struts of thin-wall (EMT) steel tubing with self-adjusting connections made using simple nuts and bolts.
This method of dome construction is not new here, it was mentioned in "Domebook 2", pages 46-49, volume edited by Shelter Publications, Second Edition October 1972, 1971, Shelter Publications, Bolinas, CA, USA. It was also mentioned in "The Dome Builder's Handbook", pages 31-32, article by Ed Cooley, volume edited by John Prenis, Fourth Printing 1977, 1973, Running Press, Philadelphia, PA, USA. These first two are still (as far as I know) out of print, though Shelter Publicationshas a new book called Shelter). A variation using aluminum tubing and a special covering system appears in " Bucky Works", section on "Pillow Domes" pages 168-179, by J. Baldwin, Fourth Printing 1977, 1996, John Wiley & Sons, New York, NY, USA. I am sure there are other examples of domes constructed using this general method, since it can be quite simple (given the proper tools).
---
This page is under construction, please come back later to find out how to make your own steel tubing domes!
---
This dome is about 16.6 feet (5.1 meters) in diameter.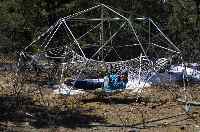 Walt rests inside the small steel dome.
---
(return to Walt's Dome Pagemain page)